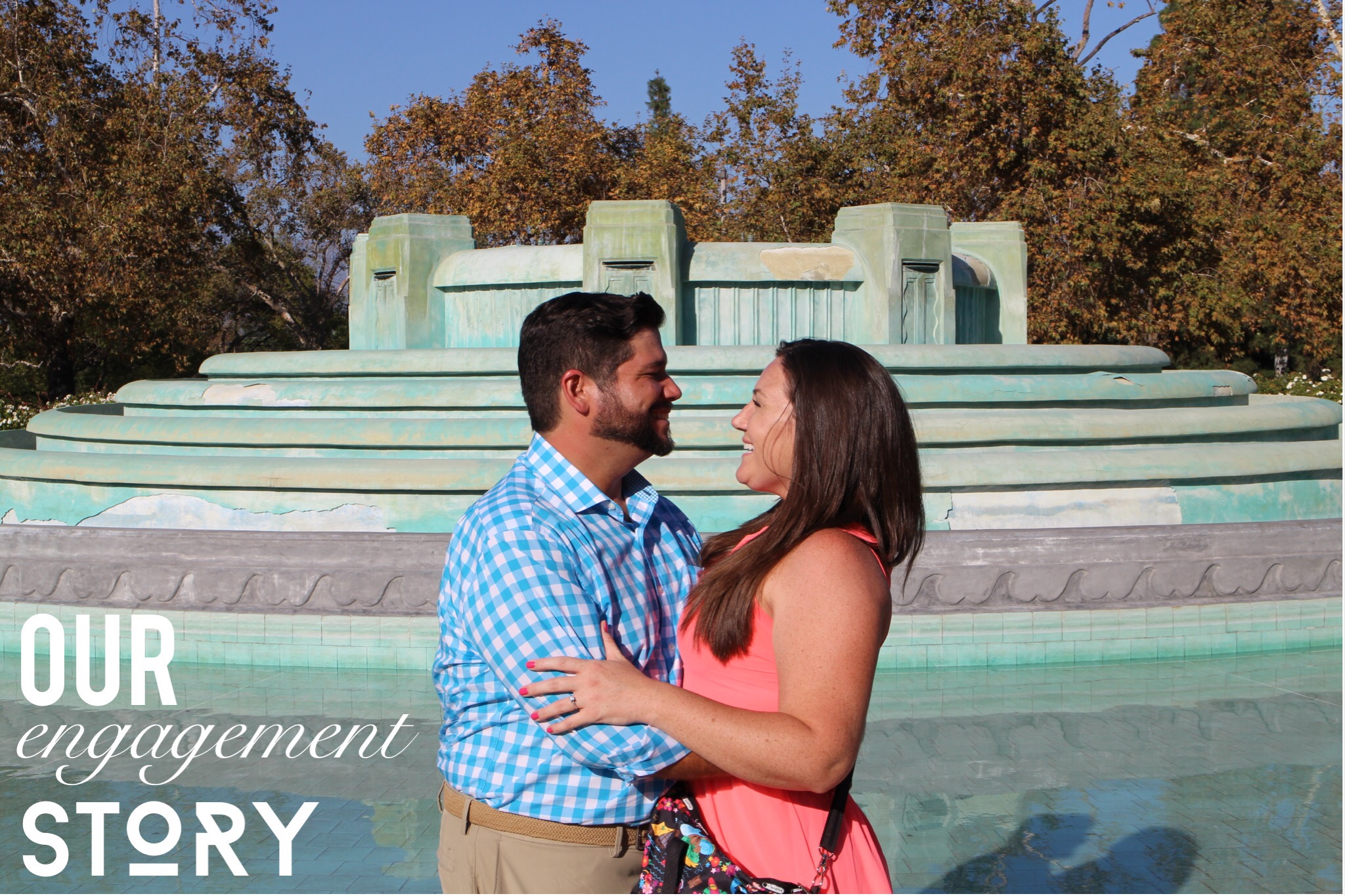 No, I wasn't surprised. I knew when it was going to happen down to the minute. At 5:00 pm on August 17, 2015, Jim Doyle made me the happiest girl ever when he asked me to marry him.
My mom and stepdad knew it was happening on our Disneyland trip. He asked Mom for the prediscussed family heirloom ring and Stepdaddy for the necessary permission. Together, Jim and I planned our big Disneyland vacation, including a day around Los Angeles enjoying some inspiring Disney-related sights. When he asked if I wanted to see the real green fountain, the beloved replicated monument was where we met on our first date at Hollywood Studios, I just knew that would be the special place. I just know Jim Doyle so well.
The big day started in Anaheim. A few days into our Disneyland vacation, we set out on our own little California adventure. Jim chose a fancy convertible to rent for our mode of transportation that day. We both dressed nice and hit the highway with the top down. After a quick stop at Starbucks, of course. *wink* This ride was one of the best parts of the day. My first car was a convertible and the familiar breeze of a carefree cruise was the perfect transition into this next chapter of life.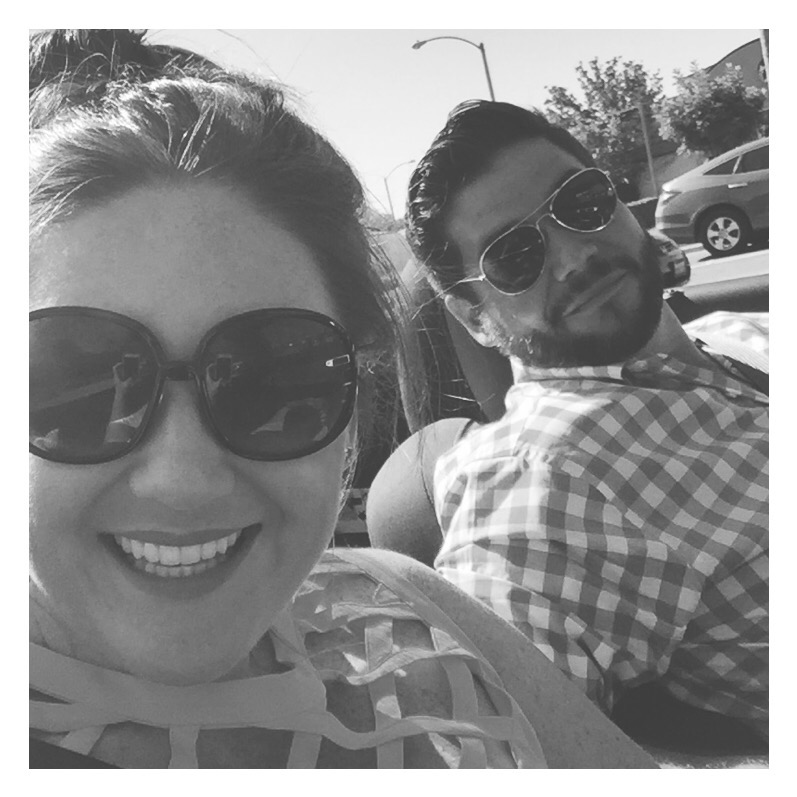 From Disneyland it took us a little under an hour to make it to our first fabulous stop; The Walt Disney Studios. This was our second time visiting so we made the rounds visiting timeless sites like the Disney Legends Plaza and Pluto's Corner. Our friend Corey toured us around on his lunch break. It was all pretty magical.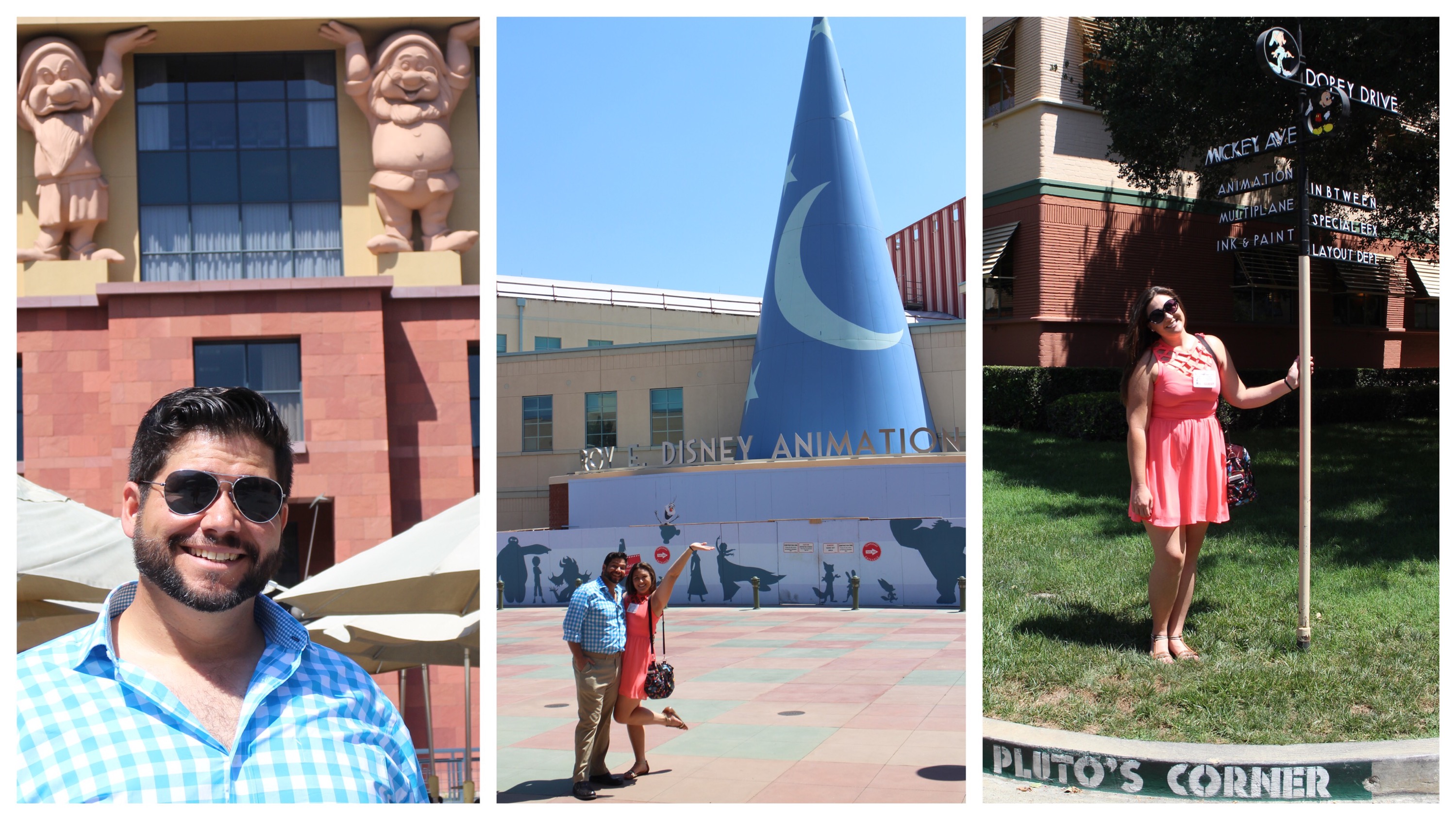 Our next stop was the Grand Central Creative Campus, home of Walt Disney Imagineering, Disney Consumer Products and those super cool Disney Starbucks menus I share. We had lunch with our good friend Robert and enjoyed the atmosphere. Robert casually introduced us to Disney Legend Floyd Norman when we saw him. It was pretty perfect.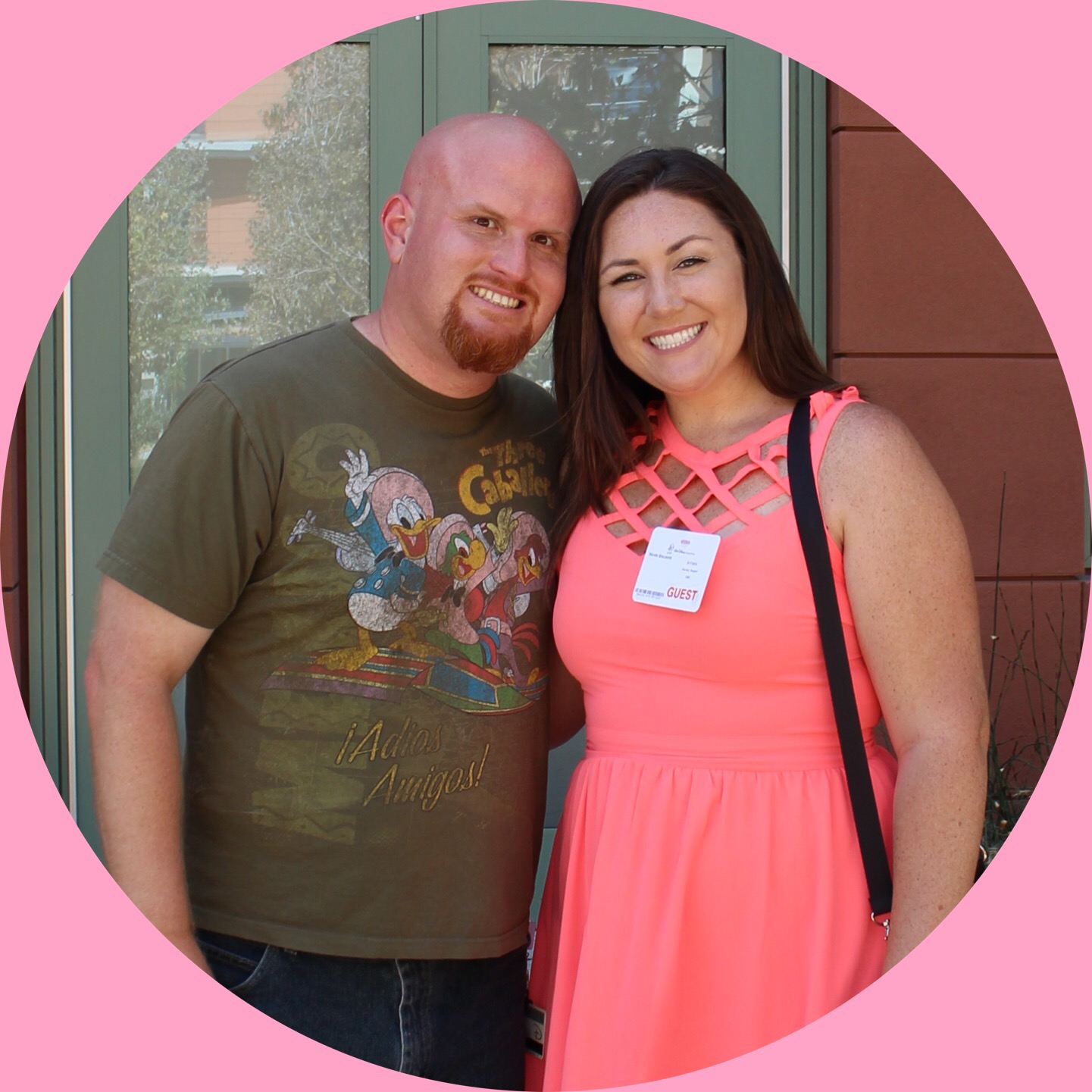 Then the day turned from really rad to romantic real quick. Our next destination was just a few blocks away in Griffith Park. We visited the carousel Walt Disney would take his daughters to. The very carousel he sat and watched his daughters enjoy and wondered why there wasn't a place for families to have fun together. The very place where Walt was inspired to create Disneyland. "You know, Jim? If Walt wouldn't have come here we would have never met." Jim watched the little sparkly gears turn in my head and replied, "That's what this day is all about. All of these things had to happen for us to be together." My fiancé, ladies and gentlemen. I'm so, so blessed.
From there we headed the most magical fountain on earth. The William Mulholland Memorial Fountain. A nice little chunk of real estate dedicated to a man who brought water to the area in a time of serious drought. We walked up to the fountain, that very ironically wasn't running because California was in yet another drought, and admired the teal familiar beauty. This fountain was massive compared to its tiny friend we knew so well at Walt Disney World.
The small park surrounding the fountain was really nice and it felt like we were the only humans on earth. And, then. Two more people came into view. A guy I didn't know with a guitar, Jim's friend Chris, and Corey, our friend from the Studios earlier, with his iPhone out to capture the moment. Jim said some of the sweetest things I've heard and then sang a guitar-accompanied remix of the song that started it all. In that old notable Mulch Sweat n Shears Christmas show back in 2011, Jim brought me up for a guest partipation part. Earlier in the show he sang a rock n roll "All I Want For Christmas Is You" song while doing an Elvis impression. I totally blushed. At the fountain he started singing that but when it got to the chorus he sang "all I want forever is you" instead.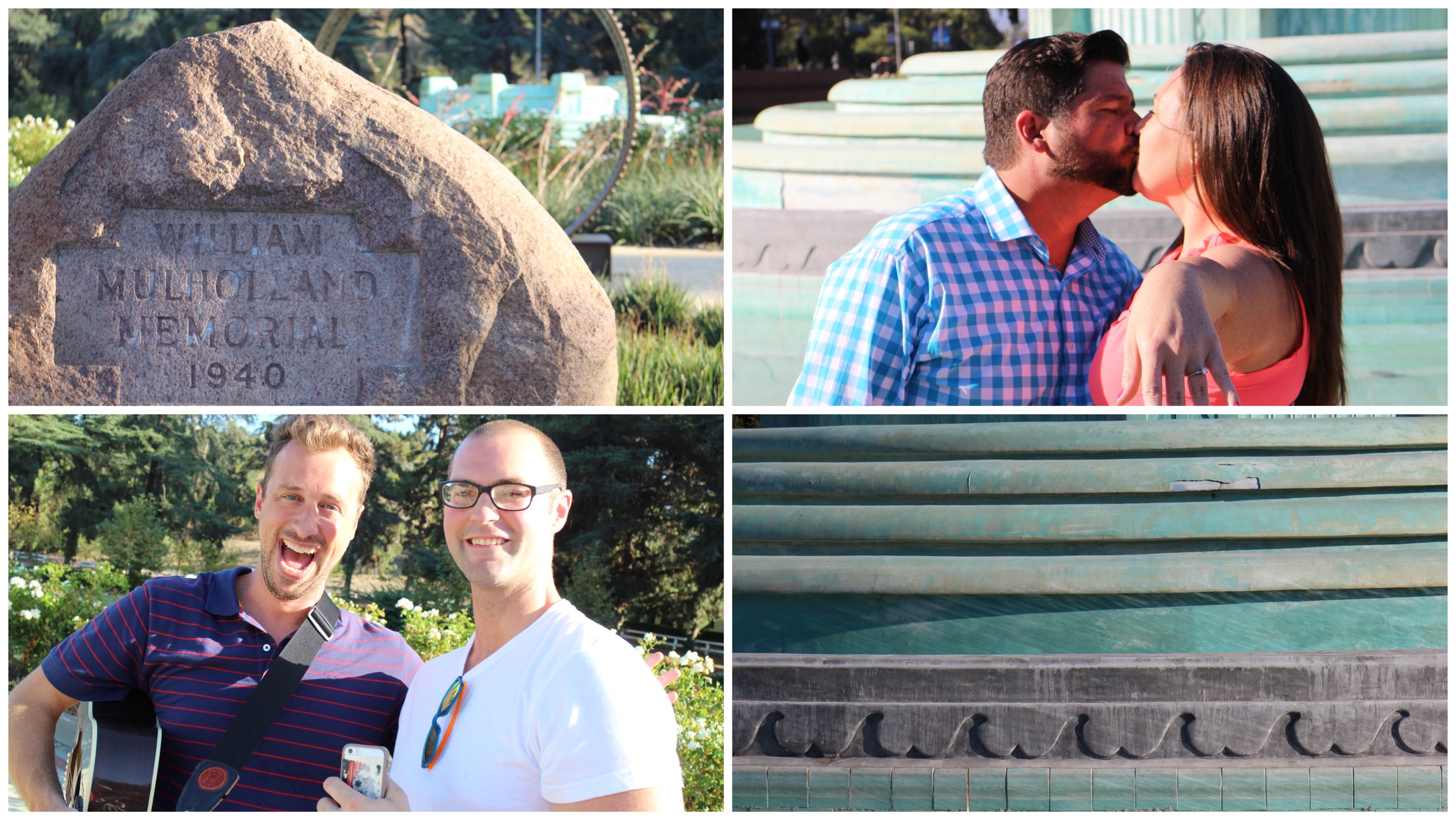 It all kind of felt surreal, out of body, foggy, dreamy, whatever you want to call it. A moment that I had envisioned and joked about so many times in my life. That moment was so much more than I could have imagined it to be. So real and full of meaning, perfectly tailored to me and Mr. Right. So different and so much better than the silly viral video proposal I told myself and friends (and even Jim!) I wanted when I was younger. I'll always remember the teal of the fountain, the peach of my dress and the brown of Jim's warm and wonderful eyes. I felt so alive and free in this moment. It was like a having a clean slate, a full day ahead of you at Disney or an unopened box of double stuff Halloween Oreos in the fridge. So much hope and so much excitement clearly ahead.
The day continued to be amazing as we enjoyed a looong and wonderful meal at the Tam O'Shanter restaurant which was a favorite of Walt Disney's. It was dark, the food was delicious and I enjoyed every second with my new fiancé. We got a breathtaking view of the city at the end of the night and then had eight more days on our perfect Disneyland vacation to celebrate. It felt like a honeymoon!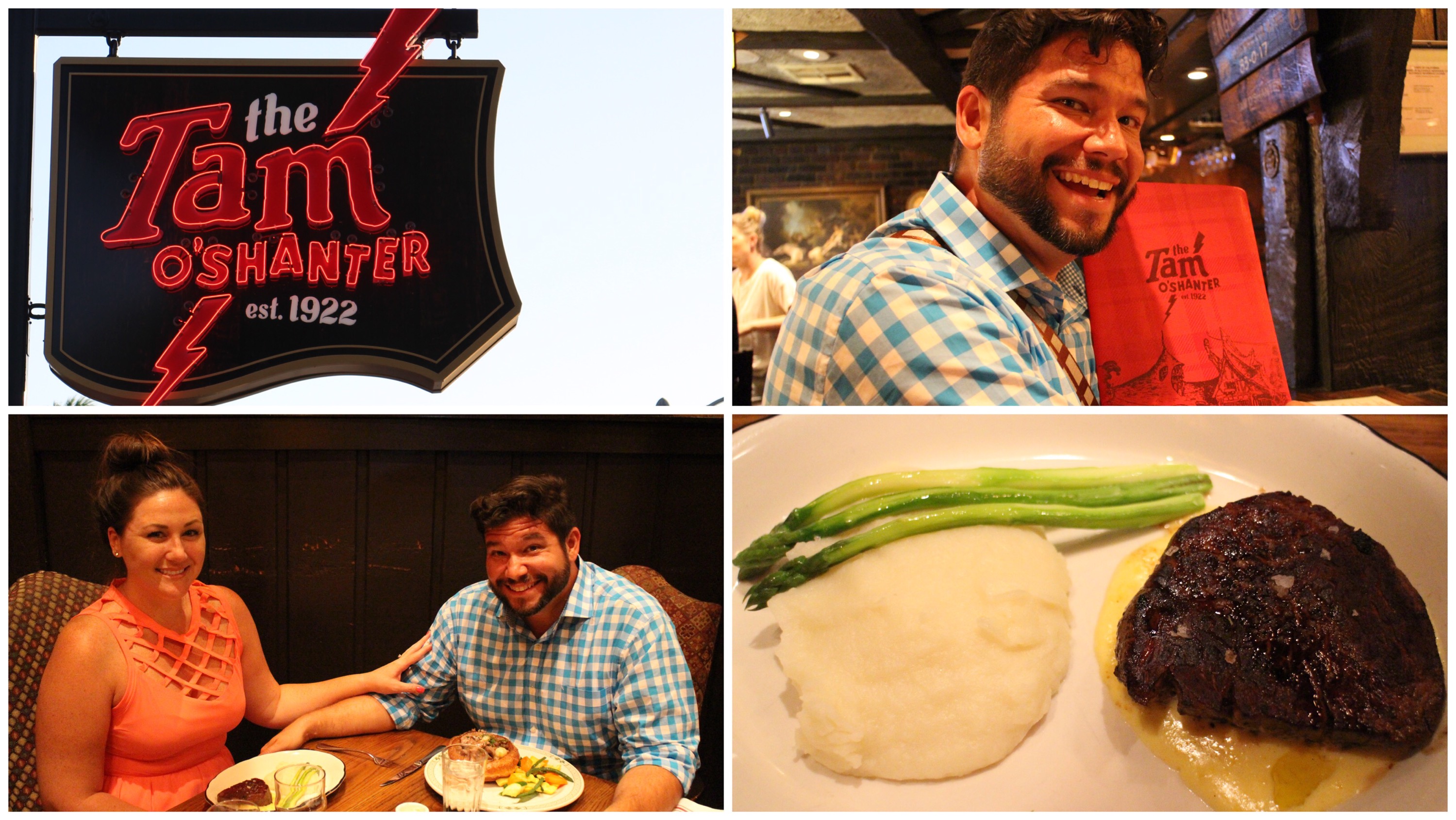 I left out many details from the day. Some things are just nice to keep for yourself. I'm really thankful to Corey, Chris and our rockin' friend Paul who made a video for Chris to learn how to play the song. It's been fun wearing my engagement ring that I treasure so much. I'm glad Jim liked the idea of it, too. It's at least 75 years old, I'd guess, and filled with history and sparkle. I'm so happy to take on the adventure of marriage with the cutest guy I've ever met. All I ever really wanted was to laugh and Jim is a professional comedian. His compassion and creativity amaze me endlessly. And most importantly, his love for God makes me a better woman. While I could dedicate a whole day to gushing about Mr. Right, I won't. But I do hope you get to experience real, true, unique love in your life because there's nothing like it. It completes the soul and makes everything better.