My friend Heather is an annual passholder that loves coming up with excuses to take a trip to the World. She's met over 230 characters at Walt Disney World and Disneyland! See photos of them all on her website, I Love Characters. Heather is giving us her pro tips for meeting characters at Disney.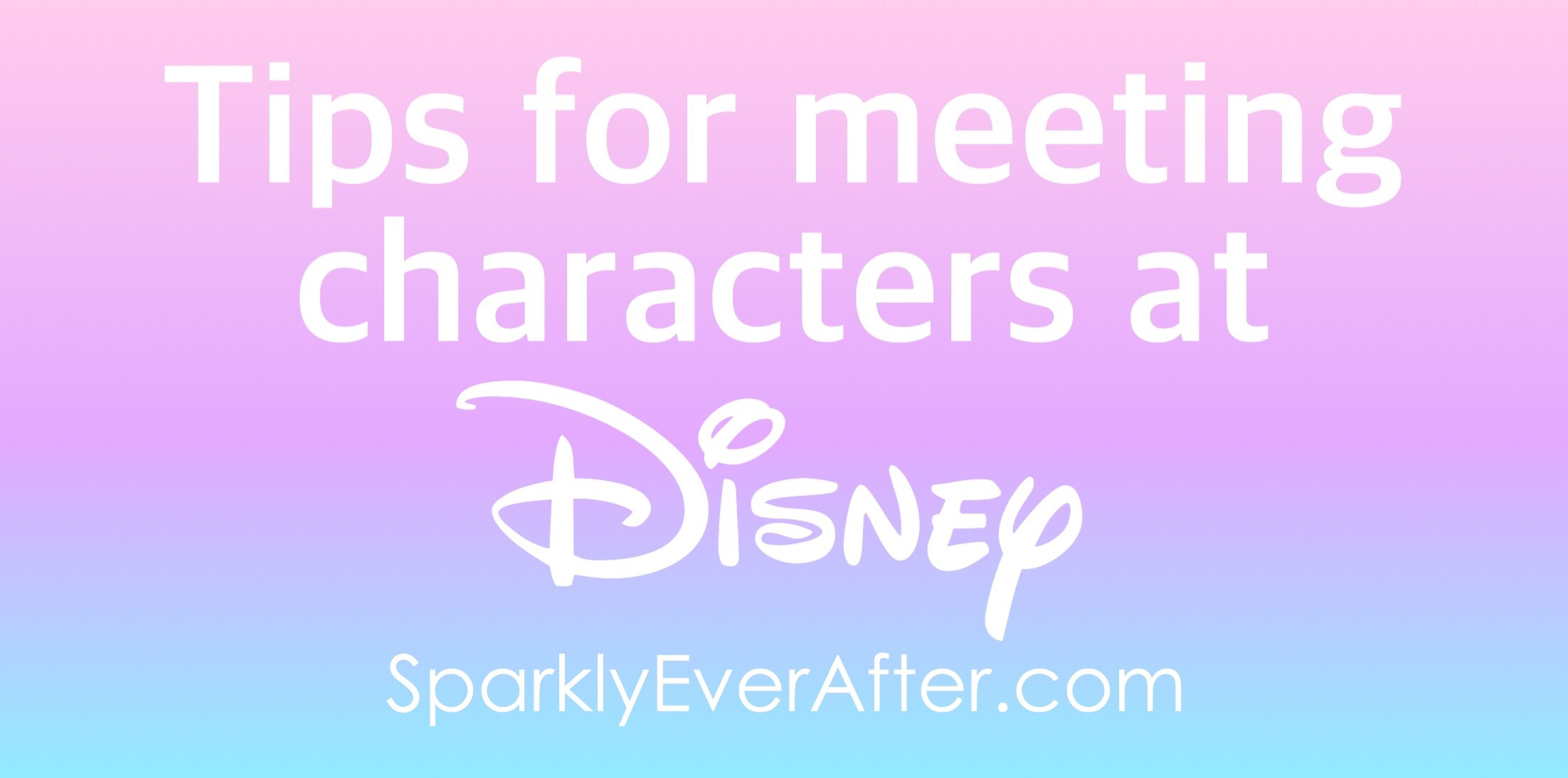 My favorite thing to do at Disney is meet characters! The most important thing to remember when meeting characters is to interact and have fun with them. Don't just go up, pose for a picture, and leave. Every character interaction is going to be different, which is part of the fun, but here are tips to help you get a really fun character meet!
Characters will always ask your name, where you are from, etc, but try asking THEM a few questions to jump start more interaction. A great starting point is to ask the character a question that relates to their movie or song. Ask Ariel what she likes best about the human world, ask Belle what type of books is her favorite to read, or ask Merida if she has some archery tips.
Wear a shirt or outfit that relates to the character. I always try to do this for character meals, or if I know I will be meeting a certain character that day. FP+ helps with this, because you know who you'll meet in advance. The character will usually react to seeing themselves on your clothing! Here's a cute picture with Woody, Jesse, and Bullseye reacting to seeing themselves on my shirt.

The best interaction I ever had with the Beast was when I wore a Beauty & the Beast dress. He loved it!
When I wore a Jack & Sally shirt to meet them, Sally asked if I stitched it together, like she does.
The opposite also works. I had a good interaction with Cruella when she was thrilled to finally be meeting someone who wasn't wearing anything princess-y. And here's Donald, not at all happy that I'm wearing Mickey on my shirt, since Donald is clearly #1!
Bring a prop that relates to the character such as a stuffed animal, tsum tsum, or vinylmation. Something specific, like a book for Belle, a dinglehopper for Ariel, or a Buzz doll for Woody. If meeting a villain, have one that relates to the character's nemesis! A family in front of me once had a Scuttle plush when they met Ariel, and she loved it. She wore it on her head for their picture, how cute is this?
I do rundisney races, and I like getting pictures with characters if the theme of the medal relates to them. This usually gets a good interaction. I wore my Frozen 5k medal to meet Anna & Elsa, and Elsa said Olaf wanted to run the race, but he was more of a wobbler, haha!
Getting autographs from characters is fun, and it also gives you more time to spend with the character and interact. To add to this, get an autograph on something special other than the typical autograph book. Try getting autographs on a frame, or something that relates to the character, such as a picture with that character from past trips. This will get more of a reaction from the character!
I made a special autograph page for Oswald with his picture. He loved it and wanted to pose with it!
I've also gotten autographs on the rundisney bib that relates to that character. Last year's princess 5k was Cinderella themed, and while she signed the bib, we discussed if she would be able to run in her glass slippers. (She was more optimistic about that than I was!)
When it's time to pose, ask to do a special pose that relates to the character! This is one of my favorite things to do with characters, here are a few examples:
Puppy Pose with Dug
Showing Off Our Shoes Pose with Cinderella
 Love is an Open Door Pose with Anna and Elsa
Warrior Pose with Mulan
Salute Pose with Green Army Man
You could also do a princess pose when meeting any of the princesses