Guest writer Marilyn dishes about a must try treat at Walt Disney World. -Nicole
When it comes to Disney treats, I have a very "When in Rome!" type of attitude. Cupcakes are a Disney's Hollywood Studios staple. And I cannot visit Disney's Animal Kingdom Lodge without a trip down to the Mara for some Zebra Domes. Pass up Epcot's Norway pavilion without stopping for School Bread? Unheard of.
But today I'm going to share my love of the Key Lime Tart. I rarely pay a visit over to Disney's Beach Club resort without stopping by the Marketplace for one of these little beauties.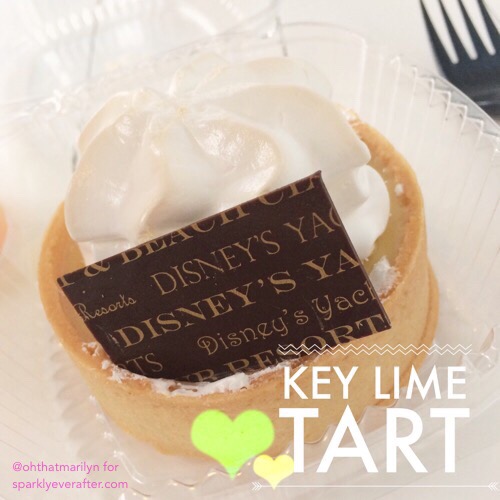 I can't even describe my excitement when I pull one of these out of the case. I'll scour them all looking for the prettiest one. One where the delicate meringue topping hasn't been tampered with. One with a light golden, buttery crust. I would even prefer my ornamental piece of chocolate to be just as wonderful looking. Basically, this gal likes her dessert fancy. It's love at first sight each and every time.
Once perfection has been selected, I'll bring it up to the cashier; giggling like a schoolgirl inside. I'll grab a fork and head out to the beach and find a comfy spot to take in the sights and sounds of my favorite resort area on Disney property. And then without further distraction, I'll indulge in the sweet tartness of one of my favorite treats not only at Disney but, anywhere. It's probably important to keep in mind that this is a tart, not a pie. So the texture is more of a lemon meringue pie than your typical key lime pie.

I know you have had one of these experiences when you're at Disney. A treat that really gets you all sorts of excited for life. What's your favorite? Tweet us and let us know!
*The Key Lime Tart is also often available at Sunshine Seasons in Epcot's Future World. But why would you do that to yourself when you can take in all the beauty of the Epcot area resorts while enjoying it??