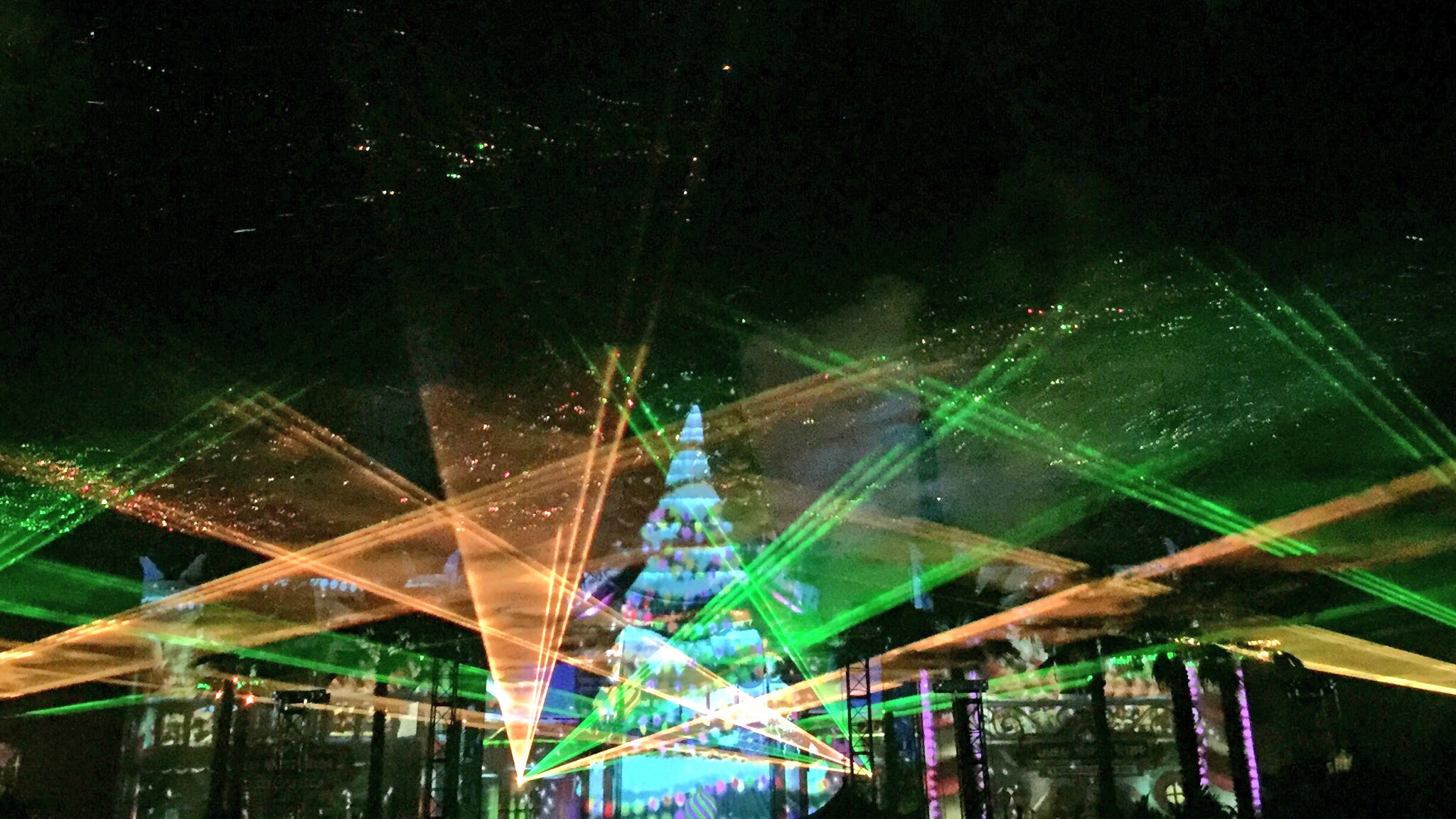 Jingle Bell, Jingle Bam!
Many of us are still dabbing our cheeks at the thought of the Osborne Family Spectacle of Dancing Lights on the Streets of America. Last year I downloaded Jingle Bells by Jim Reeves, a version I had only ever heard at the Osborne Lights in its final glorious season. It's like my personal song with the Lights. I'd happily take the Christmas Lights and the Streets of America over Star Wars and Toy Story any day. The dreamy display of endless color and Christmas cheer meant so much to so many. I feel like everyone I know said "Disney has to do something" in place of the Osborne Lights. Disney did.
The Era of Disney Projection Shows
While Jingle Bell, Jingle Bam! is no replacement for the Osborne Lights it's a welcomed new Christmas addition at Disney's Hollywood Studios. I was thrilled to hear of the new offering and to know Hollywood would still celebrate the season in some way. Just having something new and festive to see saved Hollywood Studios Christmas. Projections have been a favorite new toy at Disney Parks over the past few years and they're really getting good at it. Cinderella Castle projection shows have advanced tremendously in a short amount of time. When I first saw the Main Street projections in Disneyland Forever fireworks, I loved the idea but the execution needed a lot of work. Then came Jingle Bell, Jingle Bam! It seems the magic makers behind the projection shows have really gotten the hang of it with this one. Star Wars: A Galactic Spectacular was pretty flawlessly executed and Jingle Bell, Jingle Bam! takes it to a merrier level with more lasers and their secret weapon: snoap. The combo of Florida snow and lasers makes a sparkly, magical atmosphere.
Jingle Bell, Jingle Bam! Viewing Tips
Before going, know that Jingle Bell, Jingle Bam! is not a fireworks show. There are close pyrotechnics and a couple of large fireworks but this is totally a projection and laser show. It's not something you can watch from down Hollywood Boulevard as you'll miss most of the show. It would be like watching only the middle third of a widescreen movie and there's nothing to see directly over the Chinese theater. The sky lights up to the right of it. The best place to see the show is facing the theater and standing in front of the tower booths on Hollywood Boulevard. (Otherwise they will block your view.) There's a little homage to the Osborne Lights that only a small portion of the audience will see. Just in front of said booths on both sides are some trees that get the Osborne treatment during the show. If you're too close to the theater they'll be behind you and you'll miss them. Standing between these trees so you can see the buildings on either side of the theater will give you the very best view of the show. We lined up to see Jingle Bell, Jingle Bam! around 6:00 p.m. when the show started at 6:45 p.m. It was already starting to fill up. If you see any path at all try and make your way up to right where you want to see the show from. Crowds before Disney shows and fireworks can look totally full but almost always have room pockets inside and get roomier when people sitting stand right before the show.
Christmas Offerings at Hollywood Studios
Jingle Bell, Jingle Bam! does not have a repeat factor for me but I think you should make plans to see it once for sure. It's bright, colorful, hosts Disney characters and some excellent effects. The show lost me at The Nightmare Before Christmas because that's a Halloween movie to me. Aside from that it's filled with Christmas cheer. Projection shows like these are a fantastic addition to nighttime offerings at Disney Parks and great before fireworks shows like we've seen at Magic Kingdom. You can see Jingle Bell, Jingle Bam! through its last day on December 30th. Star Wars: A Galactic Spectacular resumes for New Year's Eve at midnight. The Comedy Warehouse Holiday Special is sorely missed this season! I hope it returns with more laughs next year. If you can make people laugh, you win Christmas. Santa is at Disney's Hollywood Studios this year, along with some new decor down Hollywood Boulevard and Minnie's seasonally themed dinner at Hollywood and Vine if you can snag a reservation before January 6th. At the end of the night it snow, snow, snows. I was giddy the whole way out.